I put this together for a customer, for the millionth time, on which exhaust system is right for a 6.7 Powerstroke. I realized; why don't I make a blog post that explains which is the best exhaust for a 6.7 Powerstroke? Then I can point all my customers to that instead of repeating myself.
There are a ton of choices when it comes to choosing an exhaust system for your Powerstroke. You could spend an eternity deciding which manufacturer, which downpipe, with or without a muffler and either four inch or five inch exhaust. Luckily for you, I know a "FLO PRO 4″ DOWNPIPE BACK NO MUFFLER" exhaust system is the best exhaust for that Powerstroke engine.
How many different types of exhaust systems are there?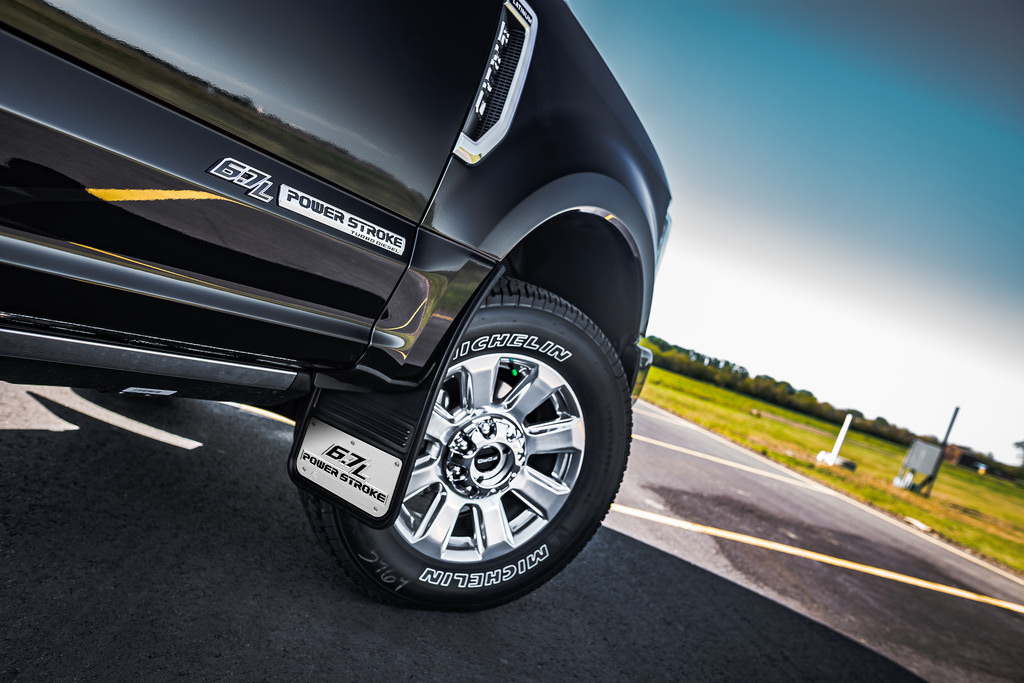 Most exhaust systems for 6.7 powerstroke consist of a few choices:
Stainless Steel/Aluminum
4in or 5in
Downpipe back/Muffler back
Dual exhaust/Single exhaust
Straight replacement pipe/Entire system
How do I choose the right system for me?
Given that there are so many choices picking the right system can be a little difficult. Don't worry here are a few things that will help you narrow down your selection.
Are you looking to improve the sound of your truck?

If yes, then you'll want a exhaust system that has no muffler. If you don't want to increase the sound of truck at all then you'll want to be sure to pick a system that includes/uses a muffler.

Are you looking for the best (i.e. lowest) exhaust gas temperatures (e.g. EGTs)?

If yes, then you'll want a system that replaces the entire stock system downpipe back and you'll really want something in the 5" range, if your budget can afford it.

Are you on a budget or just looking for a small upgrade now?

Check out the straight replacement pipe systems, these come in at under $220 and will give you all the performance and sound you can handle. Just don't forget these are competition use systems and you'll want to be sure to use pick up a tuner to go with.
Stainless versus Aluminum
Nothing looks better or lasts longer than stainless steel. The aluminized steel has a coating when scratched off will rust. But stainless steel does cost more than aluminized steel, ultimately if you can live with a rusty then you can save yourself a few bucks at checkout.
Why use a downpipe back exhaust system?
A downpipe back exhaust system just means you are going to get everything from the downpipe (the pipe at the very back of the turbo) to the tailpipe (the part that sticks out the back of the truck). You can see the best results from using a downpipe back system for two reasons, 1) if you go up in diameter, you are going to lower EGTs. 2) FloPro downpipe systems come with a machined flange that match perfectly to stock or aftermarket turbos that removes the weak spot where people often need to replace downpipes from stress or vibrations off the turbo.
Should I go with or without a muffler?
If you are building a race truck then you pretty much have no need for a muffler. If you are planning on driving on the street you're going to want a muffler to keep the noise down or to not upset any local/state laws.
Four inch exhaust or five inch exhaust?
The four or five inch debate can come down to two important parts; 1) Do you want the lowest EGTs possible? Do you want a deeper/throater/meaner sounding truck? If yes to either of those two options, then a five inch exhaust is what you'll want.
Dual exhaust versus single exhaust
Single exhaust has been the most popular choice for the last decade or so. Dual exhaust was big in the 90s but maybe it's time for a comeback. This one is purely up to preference and what you like. The only deciding factor for some in the dual vs single exhaust debacle is a dual exhaust system can be a little more costly.
Why FloPro?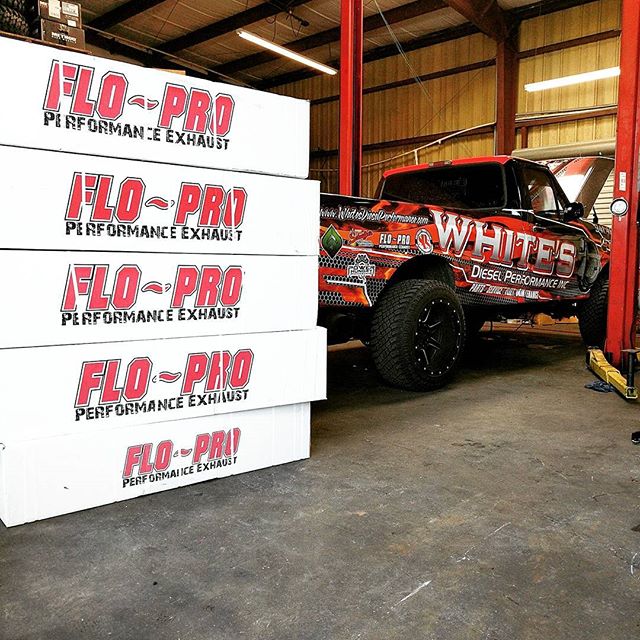 We proudly carry Flo~Pro because they only use Torca lapjoint style clamps in all their kits whereas most everyone else uses hanger clamps that squish the pipe. Not to mention the contour bent hangers mean 6" to 7" of weld on the hangers versus most exhaust system companies 1". In our experience it makes a world of difference for getting the most out of your exhaust system no matter if you're on a budget build or all out competition, FloPro has never let us down.